Highway Department
Superintendent of Highways
Kurt Allman
Office Phone: (315) 589-2874
Cell: (585) 748-6931
Fax Number: 315-589-8145
superintendentofhighways@towilliamson.com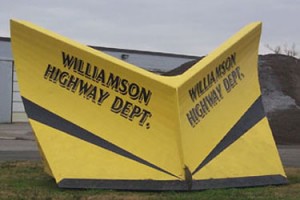 The Williamson Highway Department is responsible for the care and maintenance of approximately 47.59 miles of centerline roads that are owned by the municipality.  In the winter, we plow the approximately 28.97 miles of county roads.  We do not plow state roads.
The department at times will assist other departments in town when they are in need of equipment or additional personnel. We also do in-kind services with Wayne County, other towns in the county, and even the state if needed.
Maps of State and County roads in Williamson:
Highway Department Updates & Notifications
Chip sealing will begin on the west end of Eddy Road and Shepherd Road and the south end of Tuckahoe Road between Ridge and 104 starting Friday, May 17, 2019, weather permitting.
Just a friendly reminder regarding your mailboxes.  Now is the time to take advantage of the weather and replace or repair your mailbox and/or post.  If it appears cracked or rotted, you may want to replace it before winter weather can break it completely.  Often the...
There will be free mulch available to Town of Williamson residents at the landfill on Pound Road Saturdays from 8 am to noon beginning Saturday, May 20, 2017.  Mulch must be hand loaded only - no equipment loading.  It is for residential use only - no contractors.